The TAFAZZIN Human Variants Database is a resource for physicians, families, and researchers as to whether or not a mutation found in a patient has been seen before in other affected individuals. From submissions by families in the Barth Syndrome Patient Registry, case reports in the literature and online databases such as ClinVar, we've learned that pathogenicity – or having Barth syndrome (BTHS) – can occur in every helix, sheet, and turn of this enzyme.
Predicted Tafazzin Protein Structure with Pathogenic Variants Amino Acid Changes in Red.
(Structure prediction and overlay of pathogenic variants courtesy of Dr. Steven Glynn, Stony Brook University)
---

When available, this database includes:
Pathogenicity of many of the mutations if confirmed by ML:CL assay
The functional effects of human TAFFAZIN mutations modeled in yeast
mRNA results when characterizing some of the splicing variants
Family information regarding de novo mutations or if it is inherited
Variants identified from publications and their citations
---
Click Below to Access Resources




For questions, please email Variants Database Manager, Dr. Prasoon Agarwal at variantsdb@barthstrong.org
---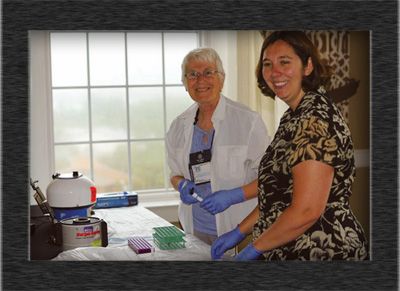 Dr. Iris Gonzalez, affectionately known simply as Iris in our community, is the diligent and humble molecular geneticist who was a founding member of our Scientific and Medical Advisory Board (SMAB) and both creator and curator of our "Human TAFAZZIN Gene Variants Database." We are truly indebted for her 20 years of service and contributions to our community, from her body of scientific work, to her involvement with patients and ability to explain complex genetic concepts to them and their families, to her diligent efforts curating the Human TAFAZZIN Gene Variants Database. Iris has dutifully researched the gene's conservation across species and has tracked, recorded, and classified the genetic history of our human community through the immensely valuable variants database. Beyond being the most knowledgeable individual anywhere about the Barth gene, Iris has been unceasing in her willingness to share her expertise with everyone. She is a generous, thoughtful and compassionate person who will forever be a beloved member of our community.
Rare diseases are often referred to as zebras in a field of horses. Iris is a wonderful unicorn.
(Last updated 8-Feb-2022)