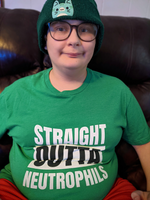 Interview by Shelley Bowen, Director of Family Services & Advocacy
July 15, 2021
Meet Luke
How old are you now?
I'm fifteen.
Tell me what school is like for you when you aren't on break for the summer.
I was homeschooled and really liked it but then I started attending a private school, and I really liked that.  This past year I had to go back to being homeschooled due to COVID-19 and didn't like it as much.  I'm hoping I can go back to the private school in the fall of 2021.
I really miss being around other people and having other people my age that I can talk with.  I really haven't kept up with my friends through all of this. 
What have you done to socialize with others in place of school?
I've attended the meetups that BSF offers.  I have really enjoyed that a lot.  It's been nice to connect with other people my age.  It's also nice to connect with other people my age who have Barth syndrome. 
Have you met anyone who has Barth syndrome in person yet?
I went to Baltimore to the Barth syndrome clinic. It was a long journey because we drove all the way from Memphis to Baltimore.  I look forward to attending the conference in 2022.
Do you have any hobbies?
I play video games.  I don't really play board games.  I like to fidget with building things like K'NEX and jigsaw puzzles.  I don't really enjoy reading. My sister loves reading.  I don't know how she does it. 
Is there a place you enjoy going for entertainment?
If I could go somewhere right now, I would really like to go to an arcade like Dave and Busters.  I also enjoy a theme park that is nearby called Magic Springs.  It's awesome.  They have some cool roller coasters like the Gauntlet and the X Coaster.  One day I would love to ride SAW.  It's a roller coaster at Thorpe Park in England.  It looks fun.  They also have another roller coaster in England called the Smiler.  It has 14 inversions!
What are your favorite foods?
I consider myself to be a foodie.  I'm interested in all kinds of foods.  I like Mexican food.  Sometimes I like spicy foods, sometimes not.  I love all kinds of food.  It would be fun if we could all make a meal together because it seems like we all seem to have an interest in cooking, but we live too far away from each other. 
Do you bake?
No, but my mom does.  She has her own baking business.  We really like it when an order falls through because we get to eat the cakes and cookies that she made that didn't get picked up.  She has a gift, that's for sure.  I'm serious, you will not have a better cake than the ones my mom makes.  They are out of this world.
Did you see any sights while you were in Baltimore?
Yes, we stopped to see a cave on the way.  I didn't like that so much.  It wasn't bad going down, but it was hard coming back out. I just get exhausted when I walk too far.  I must stop.  My legs won't move, my legs cramp and I get out of breath.  For a long time, my parents thought I had asthma before I got the diagnosis of Barth syndrome last year. 
We are hoping to come to the conference.  We will probably stay in the camper.  I will say that having a camper has made me appreciate how big my room is. 
What was it like for you when you received the Barth syndrome diagnosis?
It was kind of a shock to learn I had Barth syndrome because I had never heard about it before.  I didn't know anything about it.  It was also a relief to know what I had.  The best part is I've met a lot of nice people that are a lot like me since the diagnosis.  I didn't have that before the diagnosis.