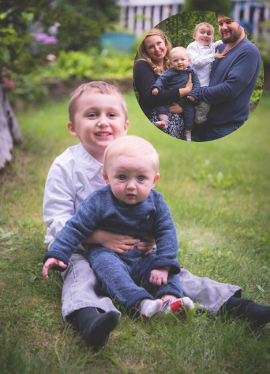 Family Focus Interview
Shelley Bowen, Director Family Services & Advocacy
Brett Smith, Operations and Communications Specialist
February 9, 2021
Jordan and Mikki are the proud parents of two boys, Thomas and Matthew who are 8 and 4 years old respectively. During the interview, you could see them both playing in the background, and easily tell that they are very much fans of each other.
Tommy's and Matthew's journey to a Barth syndrome (BTHS) diagnosis, began not with Tommy, but with his younger brother. Matthew was born in heart failure that progressed over time. It was a "series of events over three years that led us to and away then finally back to a BTHS diagnosis."
Jordan's pregnancy was uneventful, but the moment she held Matthew after he was born, she knew something wasn't right. "He was so alert but looked at me like he was scared," Jordan said about those first few moments. The doctors identified his cardiac issues 6 weeks later, but Alaska did not have the means to care for his condition so they waited two days for Seattle Children's Hospital to open up a spot and Matthew was life-flighted there with his mother and his father was able to join two days later.
Matthew spent four weeks in the Cardiac Intensive Care Unit (CICU), where he responded phenomenally to the treatment of his cardiomyopathy (Dilated Cardiomyopathy and Left Ventricle Non-Compaction Cardiomyopathy). It was when he was moved to the observation unit where Barth syndrome came up for first time. Matthew had a neutropenia spell which flashed the radar. "I just thought my baby was born with a bad heart," Jordan said.
While they were testing, Jordan immediately went to google and found the BSF website. She started reading all the stories and information and thought to herself, "This is my 4-year-old (Tommy), not my newborn."
The Tafazzin gene in Matthew initially came back fine along with the neutrophils, so BTHS was ruled out. Jordan continued studying all the patient stories and comparing them with the gene report and Matthew's continued development. She contacted the doctors with her thoughts on Matthew's condition and noticeable delays, but they said it was still probably not BTHS. "I always knew we were missing something," Jordan recalled.
Jordan continued studying the BSF website over the years and eventually reached out to a BTHS mom Kristi Pena who began supporting Jordan and Matthew in their quest. Kristi and Jordan exchanged videos, pics and information over the course of many conversations over the year.
Matthew started having supraventricular tachycardia (SVT) episodes shortly before and after his third birthday in 2020. Their local cardiologist was referred to an outside electrophysiologist, Dr. Susan Etheridge. When Dr. Etheridge first walked into the exam room, she took one look at Matthew and asked, "does he look like anyone else in your family?"  After Jordan responded, Dr. Etheridge said, "he has Barth Syndrome."
In March of 2020, Dr. Etheridge sent the family to the Intermountain Primary Children's Hospital Cardiomyopathy Clinic and Metabolic Genetic Department with the University of Utah Health where Matthew would have his loop recorder placed. It was at this point that Jordan reached out to Shelley Bowen, Director of Family Services and Advocacy at BSF.
"We flew out to Utah at the beginnings of the COVID shutdowns (March 13, 2020) for the surgery and genetic testing." As if the growing pandemic wasn't enough, while Matthew was in surgery, Utah experienced significant earthquakes. Due to COVID-19 and the Earthquakes, the family's stay in Utah was cut short so the family was sent home immediately after the LR placement and the doctor's continued BTHS testing through their local Alaskan Pediatrician's office and Telehealth.
The doctor's sent Matthew's blood samples to a lab in Amsterdam, where they determined his cardiolipin ratios were consistent with BTHS. Finally having the BTHS diagnosis brought a sense of relief and continued concern tempered by the knowledge Jordan gained from BSF and the community. "It's definitely not; as every parent and community member and patient that I've met in the wonderful community has stated; it's not something we wanted to be a part of," Jordan explained. "But the answers and quality of life that has improved as a result—I can't even describe it! Knowing the demon my boys and us are fighting is so empowering."
Jordan & Mikki still sit down some nights and continue to study BTHS, because if they need to take Matthew or Tommy to the hospital, they may run into a many doctor's who have never heard of BTHS. Jordan's advocacy for her boys isn't limited to medical settings. She consistently fights against labels like "lazy" in their everyday life. "The hardest part about advocacy is how young and healthy they look from the outside," Jordan said. "[People] don't see how much of an everyday effort and the interventions it takes to get them to that point." Jordan said she is well known around the community as a strong advocate for her boys. Their diagnosis "emboldened a part of me that wasn't there before"
Jordan made a point of saying, "I like to advocate for the dads in the community too" While it's Jordan's face we see most of the time, Matthew's and Tommy's dad, Mikki, is right alongside the family in all of the appointments, studying material, advocating, doctor visits, therapy appointments and activities. "When it comes to the care and the needs of the boys, it's not 50/50, it's 100% from both of us, 24/7" Jordan said with a smile.
As a family, they enjoy outdoor activities like camping, fishing, skiing, sledding, and gardening. As an active Alaskan family, they are learning to adjust and adapt activities for the boys, especially the more physically demanding activities. Jordan describes Matthew and Tommy as "incredibly intelligent, charismatic, caring boys" and "there is nothing about my boys or their lives that doesn't make me extremely proud."
At the end of the interview, we asked Jordan two questions, the first being: is there anything you would like to say to another family going through the diagnosis journey? "Don't give up. It sounds so simple, but it's one of the hardest things to do sometimes when facing all of the unknowns." She also added, "I've always wanted to say thank you to Kristi Pena for believing in me."
The second question we asked was: what is one thing you would like to tell your past self about your family's journey? "I tell my past self all the time, how proud I am of myself. Particularly for not suppressing the questions and persevering through the journey to diagnosis."