Interview by Shelley Bowen, Director of Family Services & Advocacy
August 14, 2019
Meet Travis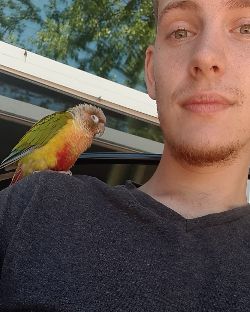 What advice would the twenty-four-year-old Travis share with the younger Travis?
Stay active. Move, just move; even if it's just to walk for two minutes or lift two-pounds, keep moving.
Are you active?
Yes, I enjoy staying active. Todd Cade's research was personally meaningful to me because it suggests how important it is for people with Barth syndrome to stay active. When you have Barth syndrome you don't burn fat for energy like healthy people, you use more glucose. When I was little my cardiologist told me never to become a couch potato because it would be harder for me to get reconditioned than it would be for a healthy person.
What else do you enjoy doing?
I enjoy reading. I started playing guitar at a very early age probably around the age of six or eight.  It was something that came naturally to me. My dad played the guitar and taught me and both of my siblings to play. I took private guitar lessons for about six years, then I started teaching lessons. Music lessons were fun, I guess because music came natural to me. It wasn't like school.
What do you remember about elementary school?  
Not being there. I missed a lot of school. I was sick a lot when I was young. I wasn't around the kids in school on a daily basis. That made it hard to fit in when I was there. They already had their friends. I guess I just didn't really feel like I could relate to other kids in school because they were not a part of my everyday life. Thankfully, I had many adult neighbors and friends in my life in my life who were a constant in my life.
How do you feel activity is different now than it was when you were younger?
Now I tend to know my limits. That took a while. When I was in physical education in school, I was being expected to do the same thing others were doing and I couldn't. I'd be pushed or push myself too far and it would make me physically ill. It's no fun to vomit in front of the entire school. One of the worst experiences I ever had was with a beep/bleep test in PE. That was brutal. I heard that it was banned because it was inhumane. If it wasn't it should be.
Is there something that happens or a feeling that you get when you feel you are getting close to that threshold of no return with physical activity?
I got sick many times before I found that line. I wanted to go and still want to go as far as I can. It's really important to me to remain active. But it definitely sucks to push beyond that line because if you do you are out for the whole day. It still happens, but not as often as it did when I was younger. It tends to happen more during the winter or right after winter when I am not as active. I feel better when I am active. I have to move every day. Small things add up and help me to feel better. Inactivity adds up too, only not in a good way. I'm not suggesting that I am ready for a 5k run but to me it's not about pushing myself to reach the standards of others, my limits are personal.
What was school like for you after elementary school?
I left school in the eleventh grade and went back about a year later to the adult educational center. I had gone through my growth phase. People had their own unique challenges. They were there because they wanted to be. Your education was on you. They worked with me, but ultimately it was on me to do the work. Things change. I learned at a different pace at some point. I didn't feel as sick everyday as I did when I was younger. Maybe that's why I was able to learn. After graduating I went to work but it wasn't a good fit for me. So, I went back to school.
What did you study?
When I went back to school. I chose an area of study that fit me. I had some work experience to know what I liked, what I didn't like, what I could do and what was too much for me to do. I also worked in sales and learned that wasn't for me.   
I completed studies for developmental services to help people with developmental disabilities. But that really wasn't a good fit either.
When making a decision about my future, I considered my health a lot. I'm doing well now. I don't take that for granted. My health could worsen at any point. So, I have to consider the level of debt I might have with going back to school, how much time out of my life would be focused on school and would it be worth it? I don't want to go to school for eight years and be in such debt that I have to work sixteen to pay it off. What if I can't? Ultimately, it comes back down to having the training to do a job that will be a good fit for me.
I am going back in the fall for speech and language pathology. I can't sit at a desk all the time. It wouldn't be good for my health. I can't be in a job that is too physically demanding because that wouldn't be good for me either. I have to find a career that will support me and maybe other people, but it has to be a job that I am good at and something that I can keep doing for a long time.  
Do you want to have a family in the future?
Yeah, I do.  I think about it. I'm at the age where I am beginning to think about that more. Who knows what will happen?  
Does Barth syndrome factor into that decision too?
I guess so, I mean the whole do I want to have a child who might be a carrier is something I have considered. It's not like Barth syndrome is keeping me from starting a family but it is something that has to be considered.
When did the reality/ seriousness of Barth syndrome become real to you?
Well, there are those little reminders that it's there like when I push myself too far. It's like "Oh there you are." There was no specific event that I can cite. Missing school a lot of school when I was a kid and going back and being different was a reality check. Getting sick in front of my classmates was a reality check. Wondering if I am going to be around to pay off my school debt gives me pause. When a friend who has Barth syndrome dies, that's a reality check. Barth syndrome is like that sneaky little devil on your shoulder that taps to remind you it's still there. It's not just one thing it's the constant reminders that you need to learn how to handle.
Travis's Mom's Perspective
It has been a journey. It was really hard when he was little in school. It was a fight every day to get him to go to school. He dreaded it and so did I. I am very proud of him. He loves life. He is curious. He made it through college and now he's going back to university. I will always remember how difficult it was when he was in school. It was hard because he looked so well. No one took me seriously when I told him about the seriousness of his condition.
How would you describe your Barth syndrome journey to others?
I'm lucky, I'm really lucky. That might change, I hope not. Right now, things are good for me and I am very thankful for that. I'm also very thankful that I have been able to stay active. I hope that doesn't change.