BSF is the only organization that funds research and development (R&D) opportunities worldwide, with the sole focus of improving the lives of people with Barth syndrome.  
As a non-profit partner, we invest in the research talent and scientific innovation required to de-risk potential therapeutic advancements for our community. 
How we make R&D funding decisions 
BSF follows a peer-review process for grant applications and research programs. The BSF Scientific and Medical Advisory Board as well as external reviewers are integral to the review process, with decisions around research tool development and consultant support employing a diligence process. The BSF Board of Directors or Executive Committee render the final funding decision for all expenditures.  
BSF takes confidentiality and intellectual property rights very seriously. All reviewers are bound by confidentiality agreements consistent with best practices. 
How we fund 
The funding mechanism for projects depends on the specifics of the work, stage of the research and aspects of the organization/team doing the work. Commonly, BSF contracts through non-negotiable grant agreements, particularly for discovery and pre-clinical work in academia. However, for targeted programs, we also fund using strategic research agreements or investment vehicles. Research tools are typically funded with provisions giving BSF oversight of the assets our valuable donor dollars are supporting. 
R&D Strategy 
These are the lens through which BSF assesses funding opportunities and initiates R&D programs. A more detailed description of our efforts may be found here. 
Understanding the etiology of Barth syndrome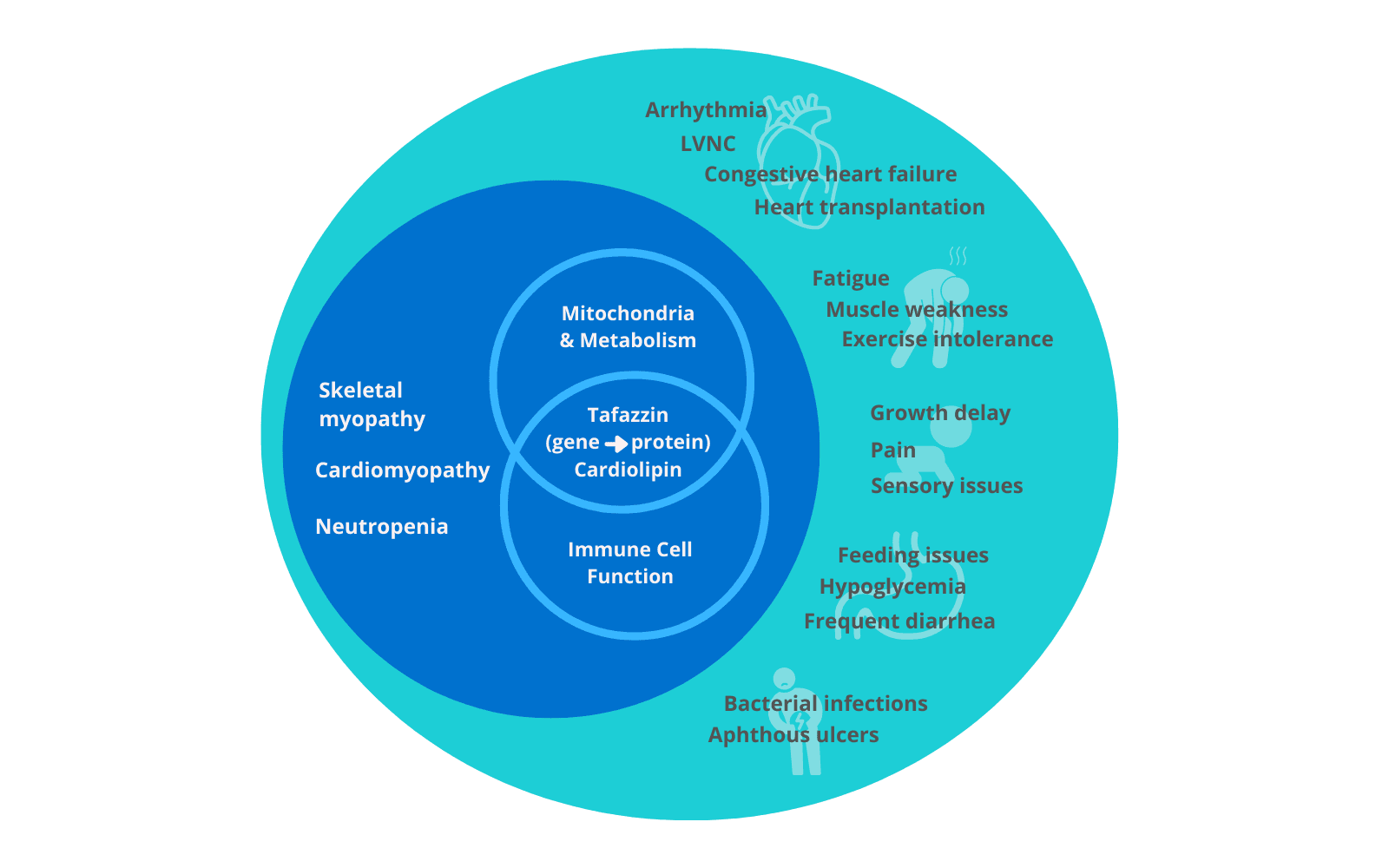 Barth syndrome is characterized by a constellation of symptoms of varying severity, with much to be understood regarding its phenotypic variability and the biochemical pathways that contribute to the disease manifestation and progression. Our funded efforts have contributed to the body of knowledge surrounding Barth syndrome while guiding our therapeutic development efforts.
Fostering an open, inclusive, and collaborative research environment  
Robust, collaborative, replicable research is critical for faster progress. The Foundation works to build an open and collaborative research environment through strategic investment in: 
Productive and rigorous dialogue between affected individuals, families, and researchers 
Well-characterized and accessible research tools 
Sharing of biosamples and data – with appropriate data embargo periods to protect a researcher IP 
Open communication and collaboration among multidisciplinary researchers and experts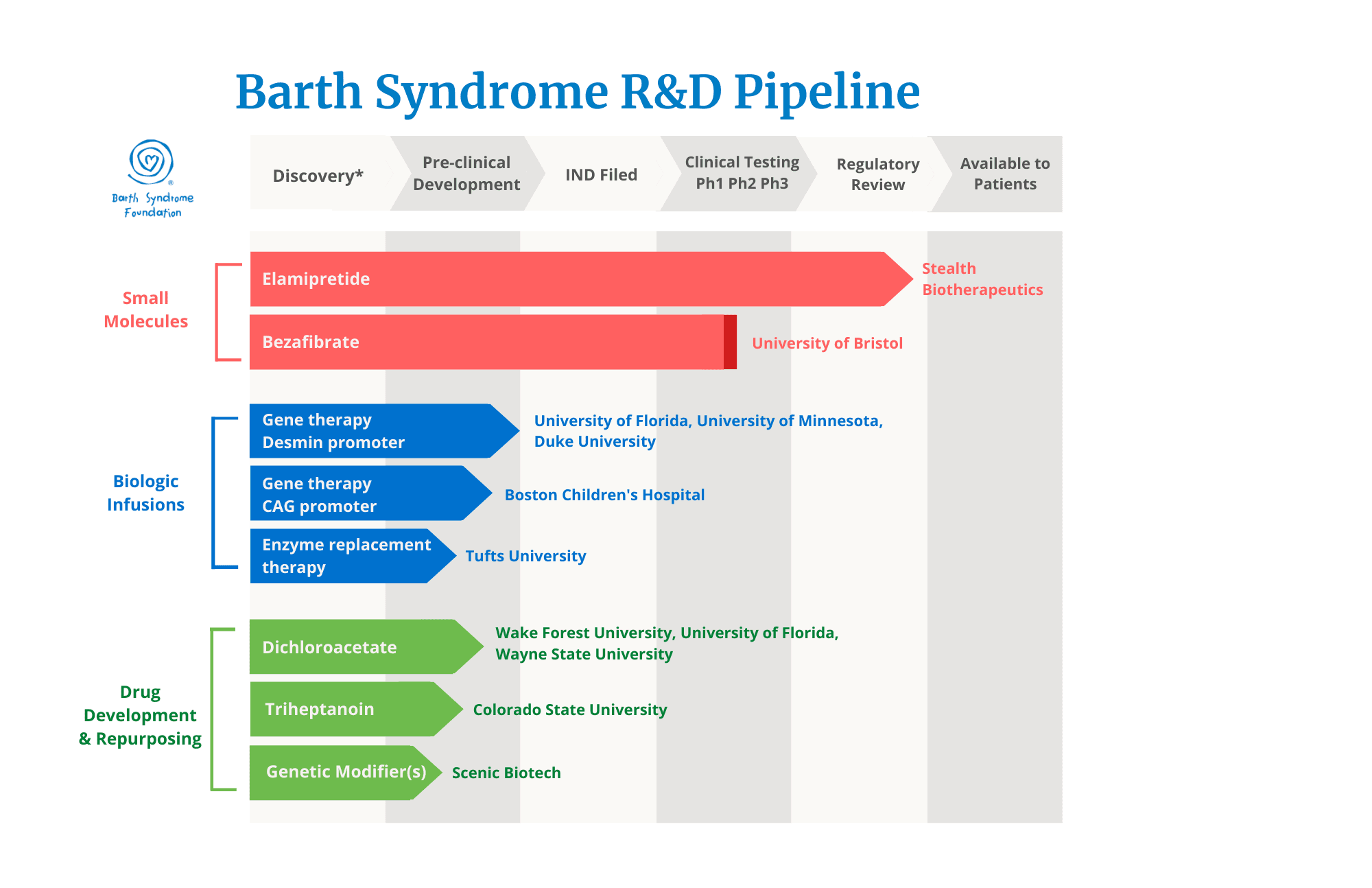 Developing impactful therapies for our community 
BSF remains focused on developing life-changing therapies for individuals affected by Barth syndrome. Our current development opportunities include disease-modifying therapies that would address the underlying genetic basis of Barth syndrome or absence of enzymatic function by tafazzin, as well as identification and validation of novel or repurposed drugs. We further impact therapeutic development by working with industry on and advocating with regulators for study designs and clinical trial endpoints both tailored and achievable for an ultra-rare disease. 
How We Advance Research & Development 
These programs span the scope of effort BSF employs to expeditiously reach our goal of safe and effective therapies for our community. 
Peer-reviewed Funding Opportunities 
Seed Grants
The grant program is intentionally open-ended, calling for novel and iterative ideas across the spectrum of Barth syndrome research. 
Follow-on Funding 
We may issue add-on funding if a project shows significant progress and continued potential to improving our understanding of Barth syndrome or the development of promising treatments. 
Targeted Priorities
Guided by collaborative discussions with clinical and subject-matter experts, these efforts aim to address key research gaps and unmet needs as reflected in BSF's Strategic Plan such as Barth Fatigue and Arrhythmias. 
Consultant Support
As intellectual property advances through R&D, so do the requirements for research due diligence. BSF works with researchers to identify consultants who can advise teams on pre-IND enabling studies, regulatory data packages, and other specialized areas along critical path of therapeutic development. 
Partnerships with Peer Organizations
Barth syndrome is a complex, multi-system disorder encompassing cardiac, mitochondrial, neuromuscular, gastrointestinal, metabolic, and immune pathologies. To leverage mission synergies, we actively seek opportunities to partner with disease organizations for the advancement of research as it overlaps with Barth syndrome pathophysiology and symptomology.  
Expanding our Reach
These efforts have the potential to mutually advance our shared science while building interdisciplinary bridges to a broad field of trainees and young investigators. 
Resource-sharing and Research Tools 
As technologies evolve, so do the tools researchers need to advance their work expeditiously and cost-effectively. We help to de-risk this aspect of R&D by creating and supporting non-competitive, accessible research assets including: 
To learn more and engage with the BSF R&D Program please email: 
Erik.lontok@barthsyndrome.org – Director of Research 
Melissa.huang@barthsyndrome.org – Clinical Research Coordinator