JOIN THE BSF WEEKLY ROUNDTABLE, A VIRTUAL SOCIAL GATHERING OR A YOGA CLASS.

We recognize that this is an extraordinary time and that the COVID-19 situation is extremely stressful and frightening for most people in our community. Parents, caregivers, grandparents, teens, and adults with Barth syndrome - you may be literally and figuratively isolated but you are not alone!
In addition to providing COVID-19 specific guidance and precautions for individuals with Barth syndrome, we invite you to connect with others through an online support group. While the situation in our world seems to change daily, one thing is constant. We are a global Barth syndrome family and we are here for one another. 
Take care of yourself and your mental and emotional health by connecting with others, and take advantage of a free online yoga class. Details below. If you have any questions or need additional help, please email us. 
Stay in touch via Facebook, Twitter, and Instagram. We would love to get social with you during the coronavirus pandemic - but at a distance! 
---
DISCUSSION GROUP SCHEDULE
WEEKLY! 
THURSDAY 

5PM EDT: Individuals with Barth syndrome ages 18 and up EVERY OTHER WEEK Facilitators Iyar Mazar and Jonathan Stokes
Click here to join, or use Zoom Meeting ID: 920 5742 5911 
REQUEST PASSWORD through the BSF Contact form

FRIDAY (12PM EDT): BSF Round Table Discussion for EVERYONE! 
Refer to the BSF Calendar for the full schedule at a glance.
---
ALL LEVELS ONLINE YOGA
Cristy Balcells is a nurse, mother of a child with mitochondrial disease, prior ED of MitoAction and a yoga teacher. During the COVID-19 pandemic, Cristy is offering online yoga All are welcome. Your first two weeks are free then $5/month thereafter. 
Monday 9:30 am EDT 
Tuesday 12:00 pm EDT 
Wednesday 12:00 pm EDT 
Thursday 9:30 am EDT 
To join, simply click on the Zoom meeting link below. You'll need a computer or tablet/phone, a yoga mat, a cushion or blanket to sit on, and comfortable athletic clothing. Modifications are offered, making this an all-levels program intentionally designed to build strength and reduce stress.

HTTP://bit.ly/yogalemonadeonline to join
For questions about this program, email Cristy directly.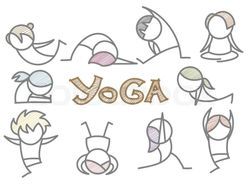 ---
---