Interview by Shelley Bowen, Director of Family Services & Advocacy
September 11, 2019
Meet Darryl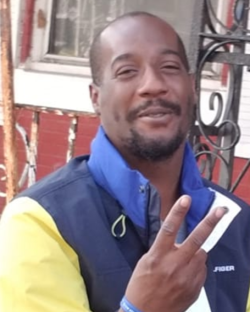 When meeting someone for the first time how would you describe yourself or what would you say you do?
I am an active member of my community, an active member of my church.  I am a caregiver for my father right now. I believe in promoting local talent and lifting up local youth. I do that through Philly Comedy League which helps to support an organization that I'm involved with called Proclaim "N" Brothers. I am the father of two girls.  My youngest just turned fifteen. My oldest daughter graduated from high school over the summer. She has a job and is doing very well for herself.
Tell me more about Proclaim "N" Brothers.
Proclaim "N" Brothers helps youth who have gotten in trouble. There are four of us involved. When a teenager has a record, even if they are innocent, that record sticks with them for life. Right now, we have 12 youth enrolled in the program. We are working with local leaders, other organizations, and lawmakers to advocate for justice reform. 
What made you decide to do this?
I live in South Philly. It's a rough place. You don't go outside at night. When you are a young person with no structure and no role models in your life all you have is time on your hands. Parents of many of the kids we work with are addicts. 
I went through a rough time when I was an adult. I wasn't out looking for trouble, but I was in a situation where I trusted the wrong people. I was better off than these kids because my situation happened when I was an adult. I had never been in trouble. I had a clean slate, no history. I had people in my life who cared about me. It's different for these kids. There is no one there to speak up for their character because there's not enough history behind you. You're marked. 
It's like that one lapse in judgement defines you as a criminal for life. There is no individuality. Nothing about the circumstances matter. After you get into trouble, you can't afford to make another mistake. Every act adds up against you. Every mistake just hammers down on you. The future isn't very hopeful when you have a record of being convicted as a criminal in your youth. Once they get into trouble, it's really hard to get out.  You can't escape it. 
I know what it's like to wonder what hope there is for a future. I could have had to serve up to 35 years in prison for one mistake. I could have died in prison. It's scary when you think about, really scary. Thankfully, I had people who stood up for me and testified for my character.
You are helping the youth escape the experience of the Exonerated 5.
We recently watched the When They See Us. WOW, that's so real. It was a great teaching tool. People sit in that cell with nothing but time to think, "What could I have done differently?"  And sometimes their only crime is being in the wrong place at the wrong time. 
Tell me about your volunteer service with the church.
I spend about 10 – 15 hours at church working with the youth. I'm a deacon with the church. I greet the people when they come in for service. I do what I can to assist the Pastor.  
Tell me more about things you like to do.
I love gospel music, but I can't sing in the choir. I get to winded. When I am in the congregation, I can stop and catch my breath. You can't do that in the choir. I've written some gospel songs. I've written some poetry. Poetry is an expression of emotion. Poetry is beautiful. 
Who is your favorite artist?
I like William Murphy. He's a Pastor at the dReam Center Church of Atlanta. His music has gotten me out of a lot of tough times. I'm from Philly so you know I love Teddy Pendergrass. My grandmother introduced me to Teddy Pendergrass, Al Green, Patti LaBelle, Anita Baker, and Michael Jackson. Sam Cooke is the best. I like older music. 
Tell me about being a caregiver for your dad.
He has diabetes. He had both of his legs amputated. He needed some help. It works out. He helps me when I'm tired and I'm there for him when he needs help. It's good to have company, but I miss having my own space and having my independence. This is the man who took care of me for as long as I remember. It's good to be there to help him now that he needs me.
Tell me more about your daughters.
They are great. They are growing up. They are becoming ladies. They are in good health. My youngest works hard to make good grades so she can become a scientist. She's on the honor roll. She's on the debate team. My oldest daughter was recently diagnosed as having bipolar Schizophrenia. That was tough. We knew something was wrong. Getting the answers took a long time. People don't talk about mental illness. Thankfully, she is doing well now.
Tell me about your experience of being the caregiver for a brother who had Barth syndrome.
There was a lot of praying, crying and sadness. You don't realize how sick someone is when you are going through it. You just get through it. 
Now that I look back, I realize he (Jamal) was so sick for so long. I remember going to the doctor together when he was in the 5th and 6th grade and hearing the doctor talking about how sick he was. We were both kids. I remember wondering if this could happen to me and at one point was convinced this was going to happen to me. 
When he died, I wondered if I was going to be next. I definitely went through survivor's guilt for being stronger than him and still being here. But 'Mal was stronger than me. He was the one that got me into church. He pointed my life in the right direction. 
When no one else could handle it, I was the one who took care of him when times were tough. I was angry with the people who weren't there for him. I was self-destructive. I drank. I'm not proud of that, but I drank to get through the hurt. I thought I was losing my mind. I'll always miss him. I have moved beyond thinking his path would be my future.
Not long ago you told me you were going through a lot of pain. Let's talk about that.
I'm not taking anything for pain. It's still there. It's me. I don't know how to explain it. It's a part of life. It's just there. It's a part of living. If I'm hurting, I know I'm living. That's how I get through it. I honestly think I have become immune to it. I've been hurting since grade school. It was painful to carry books. I feel more cramping, stiffness and pain in my body with the change of seasons. 
Do you go to cardiac rehab or therapy?
I've done aqua therapy. It takes a toll on me to get there and to get back home. Plus, when I go to therapy, they push me beyond my limit. I'm so stiff when I'm finished it's all I can do to get home. Starting the day is a process. It's not like I just hop out of bed. I'm stiff. I have to stretch. I have to take a shower to loosen up. I have my own routine at home using weights and elastic bands. 
The conference is only a few months away.
I know, I can't wait. I wish it was the conference right now. I wish it was the conference all the time. It's so wonderful to be with family for an entire week. It's great to be surrounded by people who just get it. In 2022, let's go where there are some ladies!
That's not on my priority list.
It should be.